#travelfriday
A cordial hello from self-isolation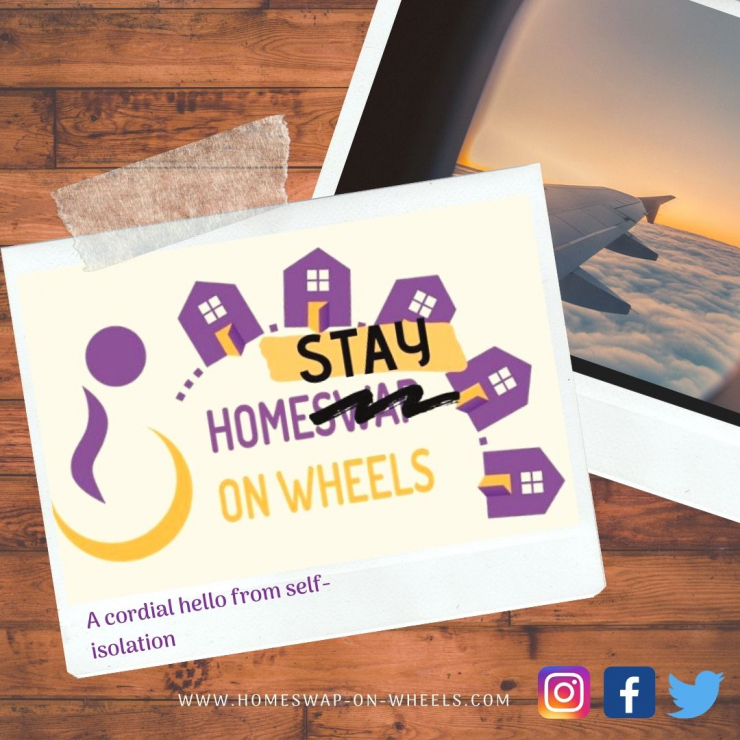 A cordial hello from self-isolation!
The measures due to covid-19 mean for Homeswap on Wheels that we are not only staying at home (#homestayonwheels), but that we are not able to continue our work until further notice.
We do know that even thinking about travelling is the least of many´s worries - we know that and we don´t want our message to come across as cynical.
We know that many of us with disabilities and chronic illnesses have more severe things to think about than their travel plans. Existencial, health related and financial worries, consequences of solitude and so much more strains us and make us lose sleep and energy over it.
For all of you who need to plan their next travels - and be it in the most far away future - as a ray of hope and who want to use the time to make useful connections: feel free to upload your flats and houses! There´s enough time now to take some pictures, write a beautiful description and share it with friends and family. 
And when we will have overcome everything, we will be in starting position and leave our own 4 walls….
We wish you the best for your health, well-being and povision. We are in this together!
Your
HomeSTAY on Wheels Team
Safety measures to avoid infection for diasbled, chronically ill and elderly people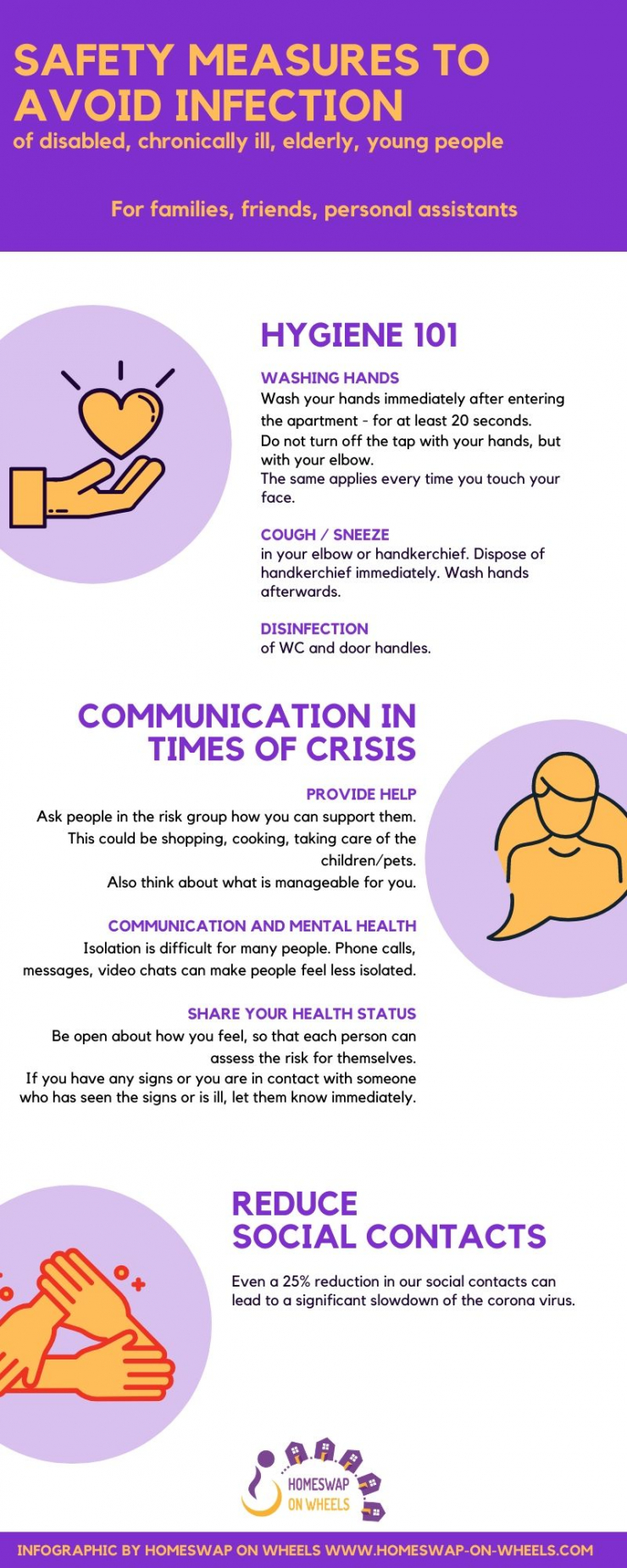 Homestay on Wheels says THANK YOU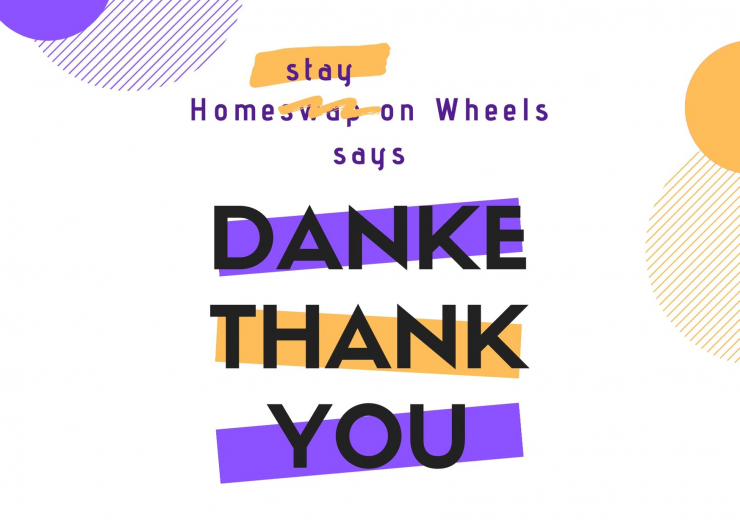 Unfortunately we have to postpone our travels and homeswaps due to the covid-19 measures. That´s the reason why Homeswap on Wheels is Homestay on Wheels until further notice.
You are still able to register and put up your profile, home and photos.. www.homeswap-on-wheels.com
We want to thank all the people working in the fields of medicine, care work, super markets etc., who make everything work and who are the reason that we disabled people can stay at home, supported and provided for as safe as possible.
A different post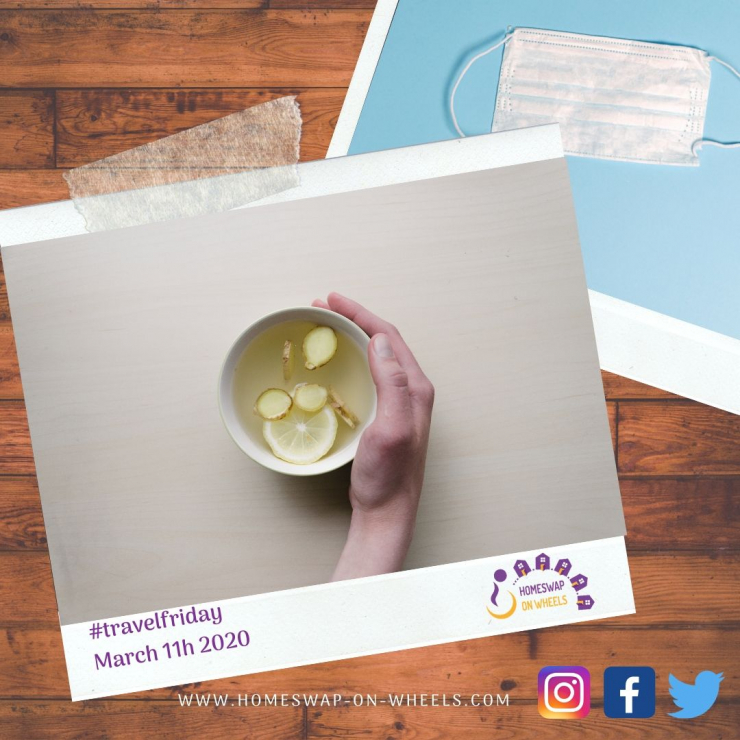 The spread of the corona virus is omnipresent - the range of reports vary from scaremongering reports and panic buys to crude conspiracy theories and ignorance. What happens when the entire society is in panic mode, buying everything? Pharmacies and drugstores are out of stock when it comes to protective masks, germicide, tampons or toilet paper. What that means? It means that people, who really need and depend on those things, are not able to get them. Disabled and old people with a weak immune system and those who live with personal assistance - how shall they/we proceed?
This #travelfriday blogpost is not intended to create further panic. It should help you get clear - whether you are on travels or in an area that's exposed to the virus: think about a strategy how you want to cope with your family and friends, personal assistants, your work and your travels.
Point out and insist that not just handwashing is essential, but all hygienic precautions. Every person with a cold shall wait and see instead of being in contact and risking your health. Inform your private physician and ask if they would give you a home visit, if you need to. Ask for support. Stay in touch with people.
Although we have to be at a distance, we have to stay connected to each other and support each other as much as we can.
What are your strategies?
#travelfriday, March 3, 2020 - Where there's a will, there's a way!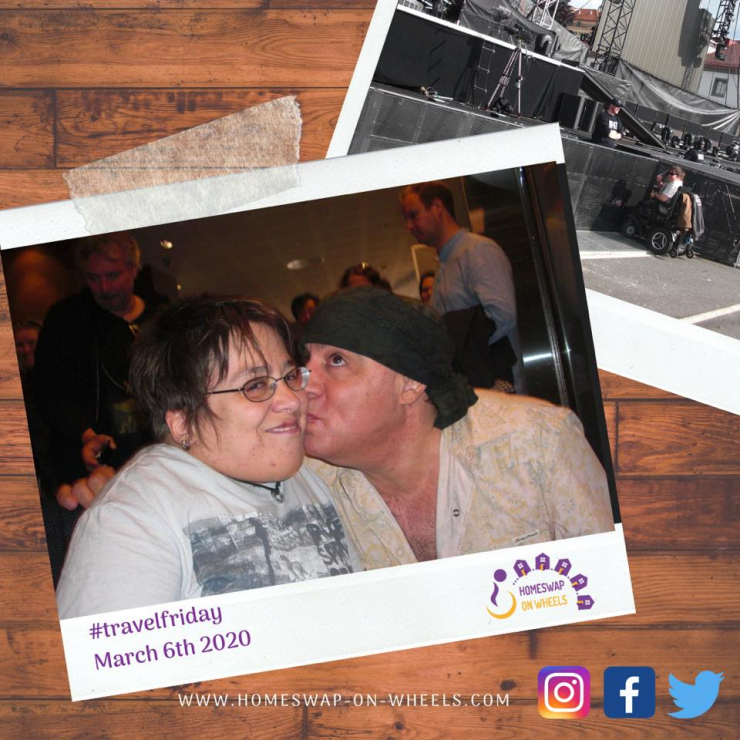 A frustrating experience, especially for wheelchair users, is the banishment to certain wheelchair places at cinema, theatre and concert events. But: Where there's a will, there's a way!
Son on 24.07.2012 in Bergen, Norway.
Like thousands of other Bruce Springsteen fans I accompany every world tour over several destinations. Since the '80s it was my biggest wish to be right in front of the stage at one of his concerts.
Until now I was always denied there because I use a wheelchair! There are usually extra spaces for wheelchair users, raised grandstand or secured seats.
For hardcore fans like me it's a real punishment to have to sit far away from the stage, where the action on stage can only be followed on screen, where the sound is often miserable and where especially the atmosphere is never really enthusiastic! For the Bergen concert, I didn't have any hopes and prepared myself to experience my 14th Springsteen concert from the off.
More or less by chance I met Steven Van Zandt at the elevator in the hotel where Bruce Springsteen stayed. After the obligatory photos and the kiss I described my request to him. He immediately understood what I was about and promised to take care of it.
2 hours later Stevie's personal assistant called me (yes, stars have personal assistance too!). I was let in to the soundcheck and could choose the best place for me in peace.
The concert itself was the best of my life - I was right in the middle of the action, Stevie and also Bruce communicated with me again and again and obviously enjoyed making me happy - and I definitely was!
There is NO reason why we can't decide for ourselves whether we want to take the "secured" seats or be in front of the stage!
It would be nice if not only Steve Van Zandt would understand and solve the problem...
What are your cultural experiences?
Pages